A History of Canadian Cricket: An immigrant's game?
Martin Chandler |
Published: 2010
Pages: 206
Author: Adams, Patrick
Publisher: www.lulu.com
Rating: 3.5 stars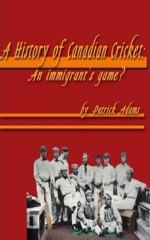 One of the better known pieces of cricketing trivia is that the oldest international fixture is not that between England and Australia, but that involving the United States and Canada, a fixture that stretches back more than thirty years before the match traditionally regarded as the first ever Test between England and Australia took place.
While the Anglo-Australian rivalry has gone from strength to strength the North American one has, sadly, never fully flowered. The longest, but not the first, hiatus was between 1912 and 1963, and there has not been a match in the series since 1995. While there must be a chance that there will be a resumption at some point in the future, there does not appear to be any immediate prospect.
Patrick Adams has written and published this book himself via www.lulu.com and kudos to him for doing so. It is a little untidy in some ways, and a little frustrating in others, but Adams passion for his subject comes shining through and, while it is not really possible to describe the book as a definitive history, it is certainly a worthwhile contribution to an area of cricket literature which few have approached, and none have tackled head on.
The first ever overseas touring team from England, raised by William Lillywhite in 1859, toured North America and in the latter part of the 19th century there were other such ventures. The Canadians also raised teams that visited England. The standard of Canadian cricket was not particularly high, and did not approach First Class level, although the 1887 Canadian tourists in particular had a creditable record. The 1872 touring party from England, captained and raised by RA Fitzgerald, contained a young WG Grace, who enjoyed a relaxing work out. Lillywhite's trip was chronicled in the first ever tour book and, following that trend, Fitzgerald went into print on his tour the result, Wickets in the West, is reviewed here, and was clearly an important reference point for Adams.
The treatment of the early tours in Adams book is extensive and is clearly the part of the story closest to his heart. He also deals at length with the early fixtures between Canada and the United States. The book is less strong on later history, although there is an unexpectedly comprehensive and most informative section on the background to Canada's participation in their first World Cup in 1979. Somewhat surprising in view of that is how little there is on their participation in the last two Cups, and neither their victory over Bangladesh nor John Davison's record breaking century against the West Indies in 2003 are dwelt upon. From a couple of generations earlier a Canadian tour of England in 1954 is dealt with in a single paragraph, despite the tour having a section devoted to it in the 1955 Wisden. Had it not been such a wet summer the tourists would almost certainly not have managed, as they did, to draw two of their four First Class fixtures, but they did not disgrace themselves and, to show for their efforts, had a victory at Lord's over an MCC team that contained three former England Captains. Bob Wyatt and Gubby Allen might well have been into their fifties, but I would have thought the match merited an account in a book such as this.
The above are, however, relatively minor quibbles in the context of a most welcome project. It is rare for books to be published that deal with the history of the game outside its major centres, and hopefully Patrick Adams worthy contribution to the game's literature might inspire others to follow his lead.