A Great Day For England
Martin Chandler |
Published: 2007
Pages: 32
Author: Gregson, Keith
Publisher: Private
Rating: 3.5 stars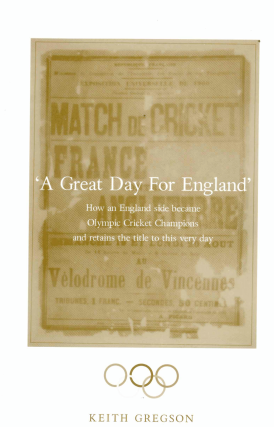 There have been quite a few great days for English cricket over the years, so the title of this modest publication does not immediately suggest what its subject matter might be. That it concerns itself with a famous Test match would be a reasonable assumption, but anyone who tasks themselves with looking back through what has happened on the Test match grounds of the world over the last 130 odd years is not going to guess correctly however long they stick at the task.
Despite that opening comment most of those frustrated by an inability to swiftly hone in on the events of A Great Day For England will, when finally informed, find they knew the answer all along. The piece of Olympic trivia that records the Olympic cricket title as still reposing in England (or should that be Great Britain?) is actually quite well known, and it is that moment from history that is looked at in Keith Gregson's 2007 pamphlet. The timing is important because although there is an aside dealing with the prospects of the T20 version of the game becoming an Olympic sport the passing of eight years has, thus far at least, borne out Gregson's belief, very well explained, that London 2012 notwithstanding it simply wasn't, and isn't, going to happen.
To understand the tale of the Olympic cricket title the reader must put out of their mind completely the pomp, ceremony and nationalism that characterises a modern Olympiad. The single game concerned was a two day twelve a side affair contested in August 1900 in a municipal velodrome at Vincennes, a suburb to the East of Paris. The two sides were the Devon County Wanderers, who were on a club tour, and a side variously described as All-Paris or USFSA (Union des Soci tes Francaises de Sports Athlètiques).
There were various sporting contests going on in France at the time, as an adjunct to the Paris World Exhibition, and it was only as late as 1912, after the success of the 1908 London games, the IOC set about recording its own history. Thus it was that no one at Vincennes knew the significance of the low scoring game, won comfortably by the tourists in an almost deserted 20,000 seat stadium.
Gregson has done an excellent job of recreating what he can of the match, and the lives of the Wanderers. He has been less successful with the home side, most of whose names have a distinctly British feel to them, although those of Roques and Schneidau suggest a continental flavour. Not all that long ago Gregson's interesting little book could be had via Amazon for just a few pounds. It seems no longer to be available there, but if anyone is interested I doubt that finding a copy will prove unduly difficult or expensive.