A Bolt From The Blue
Martin Chandler |
Published: 2021
Pages: 4
Author: Rodgers, Pat
Publisher: Red Rose Books
Rating: 3.5 stars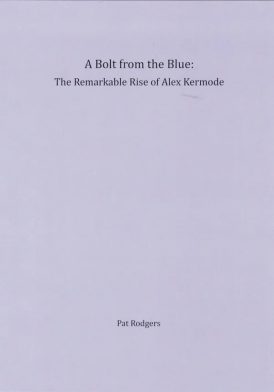 The sub-title of this slim booklet is The Remarkable Rise of Alex Kermode, and it is the second time in the space of a month that Red Rose Books, specialist publishers of new writing about Lancashire cricket, have released a title about an Australian cricketer written by a leading Australian cricket historian. Last month we saw a full biography of Les Poidevin, and now a monograph on the subject of Alex Kermode.
Two of the first overseas players to represent English counties Poidevin and Kermode helped Lancashire to win the Championship title in the first summer in which they were eligible to play,1904. Kermode was a right arm pace bowler who enjoyed three successful summers with the Red Rose before his form fell away and he went off to the leagues before, in time, returning to Australia.
The Kermode story begins with his being plucked from nowhere for a First Class debut by Monty Noble, a step said to be evidence of Noble's racism towards the Aboriginal fast bowler Jack Marsh. On the strength of his successful appearance in that fixture Kermode was selected to play against the touring English side led by Archie McLaren, who was sufficiently impressed by what he saw to seek to persuade Kermode that professional cricket in England was the course his life should take. As a labourer in Sydney at the time persuading Kermode to give his idea a try was probably not a difficult task for a man with McLaren's credentials.
Inevitably in a four page essay there is no great detail in Pat Rodgers' work but, as he amply demonstrated in his recent book on Jack Cuffe he is a fine historian, and for Lancastrians in particular it is good to know a little more about Alex Kermode. The booklet appears in a limited edition of just thirty copies so, in view of the fact it will attract interest in Australia as well as in Lancashire an early purchase from the publisher is advised.