A Bolt from the Blue
Archie Mac |
Published: 2021
Pages: 4
Author: Rodgers, Pat
Publisher: Red Rose Books
Rating: 3.5 stars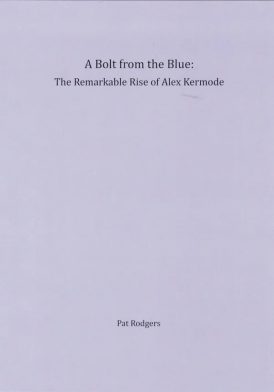 They don't come much shorter than this publication. The rest of the title is The Remarkable Rise of Alex Kermode. I was unfamiliar with his story before reading this brief piece.
It seems, Kermode, a bowler, was picked from obscurity by sole NSW selector Monty Noble and after just two first class matches for NSW was recommend by Archie MacLaren for a trial with Lancashire. He was successful and spent a few years playing county cricket before, perhaps due to becoming a little avoirdupois, his bowling powers waned.
Kermode returned to NSW with his English bride and their child before he finally made his Sydney District debut with Balmain. That fact alone will give you some idea of just how obscure a selection Kermode's was.   
As nearly always with these short publications I found myself wanting more. Perhaps some stats of his county career or some more match highlights. Surely eight pages or even sixteen would not see the cost rise too dramatically. Oh well, the fact I wanted more provides an indication of the quality of this short pen portrait.
I was considering awarding it four stars however I noticed a typo, and in a book of just four pages that is almost unforgivable. I picked up my copy of this charming little publication from CW friend Roger Page – (03) 9435 6332 –rpcricketbooks@iprimus.com.au