Ashes Cricket 2013 – Latest Information
James Nixon |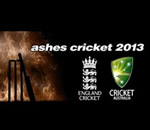 A release date of June 21st, 2013 has been announced for Ashes Cricket 2013 and it will be released on the Xbox 360, PS3, Wii U & PC platforms.
Alongside this news, 505 Games have launched an exciting new competition created exclusively for non-professional cricket teams.
They are offering one lucky non-professional team from England and one from Australia the chance to be cricket stars in the official Ashes Cricket 2013 videogame!
Photos of the winning team and their home ground will be used by the developers to build the team into the videogame.