A Remarkable Giant Killing
Martin Chandler |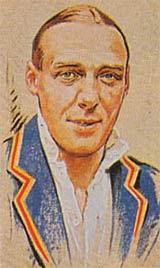 Upsets happen in sport. Every now and again David slays Goliath. Were it not so many of the joys and disappointments of being a supporter would not exist, and sport would be something only for the participants and those spectators interested in the aesthetics of the game, and not for the partisan. It is the capacity to shock and delight that makes a sporting contest what it is.
First Class cricket is a game that tends to last too long for there to be too many acts of giantkilling. In a three, four or five day match an inspired hour or so seldom makes for anything more than a riveting session, or occasionally a day. The one day game however has been a more fertile source of the sort of back page headlines that traditionally appear in the Sunday newspapers after the third round of the FA Cup. From time to time Minor Counties beat the professionals in the old Gillette Cup/Nat West Bank Trophy, and in the World Cup Kenya and Ireland in particular have put in some remarkable and compelling performances in the recent past.
Cricket's most remarkable example of the mighty being toppled came in 1935 in the County Championship. In those days the Championship was not the egalitarian place it is now. Of the (then) seventeen First Class counties the so-called "Big Six" of Yorkshire, Lancashire, Surrey, Middlesex, Kent and Nottinghamshire had won every title except that of 1911. Yorkshire had not finished outside the top five in the 16 post war seasons. In half of those they had been Champions, as indeed they would be again come the end of the 1935 campaign.
Essex were not one of the perennially weak sides, but they were very much in the second tier. They had been fourth in 1933, but their average post war position was eleventh – Yorkshire's was second. The two sides were scheduled to play each other in a three day match beginning on 31 July 1935. The venue was the Fartown ground in Huddersfield. In those days Yorkshire played one Championship fixture per season at Fartown – they had not lost there since the war. Yorkshire went into the game unbeaten, and with a comfortable lead in the title race. Essex were twelfth. Come the final reckoning at the end of the season Yorkshire suffered just this one defeat.
One of the disadvantages of Yorkshire's strength was that they were always hit badly by Test calls and in 1935 no fewer than six men from the Broad Acres appeared in the series against South Africa; Herbert Sutcliffe, Maurice Leyland, Wilf Barber, Arthur Mitchell, Bill Bowes and Hedley Verity. But there was no Test match scheduled to coincide with the Essex game, and of those six names only Mitchell's was missing from the teamsheet. In addition there were three other men who would go on to play for England in the future; Paul Gibb, Arthur Wood, and a young man in his second season, Leonard Hutton.
Of the Essex side batsman Jack O'Connor had played in four Tests five years previously without establishing himself, and Stan Nichols had played in twelve (and would play in two more). Peter Smith would win four caps after the Second World War, and "Hopper" Read would, on the back of his performance at Fartown, be selected to open the England attack with Nichols in the last Test of the 1935 series against South Africa.
Yorkshire's autocratic skipper Brian Sellars won the toss and chose to bat. The wicket was quick and green but the sun was shining and it was clear that the wicket would be a good one for batting once the early life was gone. Sutcliffe was by now a veteran, but still a fine player, and he and Barber had both opened for England that summer. The rest of Yorkshire's batting was, with the exception of the hugely promising Hutton, highly experienced and, Walter Hammond apart, Leyland was the finest batsmen in the country. With that batting order there would not have been a soul on the ground who would have believed the decision to bat wrong, still less that there was even the most remote possibility that the mighty Yorkshire would be all out within 13 overs for just 31. But they were. Nichols took 4-17 and Read 6-11. Nichols' swing and Read's pace were just too much for the home side, and to make matters worse the not always reliable Essex fielding was faultless, young opening batsman Frank Rist expressing the view Our fielding was superb ?C I think we could have caught pigeons if any had been around.
When the Essex side took the field one of their number, Rist recalled it many years later as having been Jim Cutmore, cracked a joke and the entire eleven were smiling and laughing. A member of the crowd had shouted out You've got nowt to laugh about. Rist was inclined to agree at the time, but an hour later Essex certainly had every reason to allow themselves to feel just a little smug. Another story told in Essex, probably apocryphal but well worth recounting anyway, is that concerning a member of the Yorkshire Committee who arrived late on the first morning. As he waited to go in he asked the gatemen the score, to be told 30 for 9. His next comment was Good, how many has Bowes got? which the gateman, expression unmoved, met with; None yet sir, he's only just gone out to bat
Essex struggled in turn as they reached 39-4, but then Nichols came to the crease and, with Rist, steadied the ship and took Essex into lunch. By the beginning of the afternoon session the wicket had, as expected, calmed down and developed into an excellent surface for batting on and Rist was disappointed to depart at 65 having scored 35. He was dismissed by the great Verity who, having removed one inexperienced batsman would not have expected to be unduly troubled by the next Essex batsman, a 21 year old amateur playing just his second Championship match, Brian Belle. In the event Nichols and Belle put on 174 before Belle was out for 63, a knock that proved to be the second highest of his short career. The Essex innings was wrapped up in the closing over of the day for 334. Nichols was ninth out for 146. He batted for just over three hours and hit 2 sixes and 16 fours, mostly with powerful trademark pulls and drives. His adversaries were Bowes and Verity, day in day out the best two bowlers in the county game, backed up by Horace Fisher, Verity's very capable understudy, and Cyril Turner, a parsimonious right arm medium pacer.
In an early autobiography Hutton wrote that at the end of the day an unnamed former Yorkshire batsman had inspected the wicket and declared that it would be fine the next day and that the Yorkshire batting would atone for their disappointing first innings performance. They did do better second time round, more than three times better in fact, but the conditions were similar to the first day and they were all out for 99. This time Read did not bowl right through (although Nichols did), and his return of 3-51 was not so spectacular, but Nichols completed a scarcely credible match double with figures of 7-37. When Sutcliffe feathered a catch to 'keeper Roy Sheffield from Nichols he was heard to say At least I was good enough to touch it.
Even in those days Yorkshire did lose occasionally to counties outside the "Big Six", generally when England calls had sapped their strength, but no one ever hammered them like Essex did in 1935, and to make it worse in their own backyard. Nichols, a man who only ever won 14 England caps scored 16 more runs himself in one visit to the crease than 11 Yorkshireman managed given two innings each, and he took 11-54 as well. In absolute terms there have been greater all round performances. George Giffen once scored 271 and took 17-166 for South Australia against Victoria, but the Victorians at least scored 398 between them, and Giffen had first use of the wicket. Bernard Bosanquet, George Hirst and, much more recently, Franklyn Stephenson have all taken 11 wickets and scored a century in each innings, but none of them did so with the degree of dominance that Nichols exerted over Yorkshire, or against such strong opposition, and indeed the no doubt exhausted Stephenson ended up on the losing side.
In fact based on numbers alone Nichols did surpass his Huddersfield performance three years later, when he was rising 38. He scored 159 in three and half hours as Essex amassed 553 before taking 9-37 as Gloucestershire slumped to 97 all out in reply. Following on the home side did much better, but still lost by an innings and 65. Nichols' second innings figures were "only" 6-128. He dismissed Hammond cheaply twice, as well as Charles Barnett, the only man who really looked dangerous at any time. So 15 wickets and a big century – a magnificent performance, but Essex finished the season above Gloucestershire, sixth as opposed to tenth, so it wasn't quite the same as turning Yorkshire over in the heart of the West Riding.
The four men who made the greatest contributions to that famous Essex victory are largely forgotten today. In the cases of Belle, Rist and Read that is understandable, although Stan Nichols surely deserves much greater recognition. His performance at Fartown was of course the greatest of his career, but his longevity makes him one of the cricketers who the game's history most undervalues.
As for Belle he was an Oxford Blue who played in one Varsity match at Lord's and also won a soccer blue. He played for Essex until 1937 when, just 23, the teaching profession claimed him. At the time of his death, in 2007 at 92, he was the oldest surviving Essex player.
Rist was with the County for much longer, only retiring as a player in 1953, but he was never a regular and played only 65 matches altogether, during which he scored just three half centuries. He enjoyed greater success as a footballer with Leyton Orient, Charlton Athletic and Colchester United before managing the junior sides at West Ham United. During the war he joined the RAF as a physical training instructor, was stationed in the North and played with distinction for Liverpool in wartime soccer. After 1953 he stayed on the Essex staff and he looked after coaching and talent spotting. As part of his coaching duties he led the second eleven into the mid 1960s, by which time he was over 50. By then the county's financial situation was so parlous they had to dispense with his services, but such was his love of the job that he carried on anyway. He didn't live quite as long as Belle, but had a good innings, being in his 88th year when he passed away.
Hopper Read was a batting rabbit of the highest order. He once made eight consecutive ducks and is one of that distinguished group who took more wickets over the course of their careers than they scored runs, in his case 219 as against 158. But it was as a bowler that Read was selected. He flashed across English cricket like a comet in the sky. Effectively he played for just two seasons, 1934 and 1935. His reputation was as a tearaway fast bowler and knocking off the cap of The Master, Jack Hobbs, with his first delivery on debut did him no harm at all, and there were a number of other examples of his proving too hot for county batsmen to handle. As a result of his efforts at Fartown he was catapulted into the England side for his only Test cap just over a fortnight later. England were 1-0 down and needed a win at the Oval so Read was included – sadly for England the pitch was a good one and the decision to put the South Africans in proved to be the wrong one as they easily managed the draw they needed. Read took 6 for 200 in the match in fifty overs, so while there was no Test match glory for him he fully justified his selection. That winter Read toured Australia and New Zealand with what was, effectively, an England A side but, one match in 1948 apart, that tour was the end of his cricket career as he retired in order to concentrate on a career as a Chartered Accountant. Read too had a very long life. He was just less than three weeks short of his 90th birthday when he died in 2000.
By far the most accomplished cricketer of the four Nichols did not enjoy the same longevity, being just 60 when he departed this mortal coil. He joined Essex in the early 1920s as a left handed batsman and made his debut in 1924 at the relatively advanced age of 23. Although he had never bowled seriously the former Essex batsman, Percy Perrin, thought he looked like a bowler and advised him to start turning his arm over. Nichols' action was hardly a thing of beauty, his round shoulders made him appear ungainly at the best of times, and his run up was short, just 13 paces. "Crusoe" Robertson-Glasgow described it as resembling a sailor in a hurry, but it was doubtless a major factor in his ability to bowl unchanged for long periods. In his younger days he was not far off being genuinely quick. He was accurate and able to seam and swing the ball enough to trouble the best batsmen and, in the words of his Essex teammate and fellow paceman Ken Farnes he had an amazing ability to move the ball off the seam from leg on a wicket that is at all green. At the close of his career Nichols, who was genuinely ambidextrous, expressed regret that he had not bowled left handed and therefore had the threat of a stock delivery that moved away from the right hander. For those for whom that is difficult to swallow the photographs of Nichols demonstrating left arm bowling techniques in a coaching book that he authored late in his career will give them some food for thought.
There were 14 Tests along the way for Nichols, and a reasonable international record. He averaged just a shade under 30 with the bat, and his 41 wickets cost him just over 28 runs each. He will always have the distinction of having bowled the first delivery in Test cricket in New Zealand, but the side he went with in 1929/30 contained only a handful of men who had played Test cricket before in what was very much an understrength England side and that, inevitably, devalues his two Test fifties, both of which came on that tour. The following summer saw the 1930 Ashes series and a young man from Bowral rewriting the record books. Nichols did get into the side for the fourth Test. He took 2-33 from 21 overs and was undefeated on 7 when rain brought an early closure. It must therefore be that he deserved another chance against the oldest enemy – but he never got one.
Nichols wasn't fast enough to fit into Douglas Jardine's plans for 1932/33, so he didn't play Test cricket again until Harold Larwood and Bill Voce were hors de combat in 1933, when he performed well enough against a disappointing West Indies side in the third and final Test at the Oval to be chosen to lead the attack for Jardine's second string MCC side who played the first ever Tests on the sub-continent that winter. A sound if unspectacular performance there put him in a good position for selection for the Ashes in 1934, given that for various reasons only Gubby Allen of the 1932/33 bowling attack was available. Sadly Nichols chose the wrong time to have what turned out to be a distinctly ordinary season with the ball.
Nichols was back in the selectors thoughts in the season of his heroics at Fartown and he played in four of the Tests, as noted he and Read leading the England attack at the Oval. In the first Test at Trent Bridge, eventually drawn, he had ripped out the last five South African first innings wickets in the space of 22 runs which, adding the wicket of Bruce Mitchell that he had taken earlier gave him 6-35, and comfortably the best figures of his Test career. By the fourth Test however he had been dropped in favour of the veteran Maurice Tate, so the Yorkshire game prompted a come back for that final Test. The only other Test for Nichols came when he was recalled for the last Test before the war, against West Indies. He took two costly wickets and, on 24 in England's first innings was run out courtesy of a breathtaking piece of fielding by Learie Constantine. He had however done enough to be chosen as a member of the 1939/40 trip to India, a tour that, owing to the outbreak of the Second World War, never took place.
So it is as a hard-bitten county professional that Stan Nichols will be remembered, and he really was something of a beast at that level. He first did the now unheard of double of a thousand runs and one hundred wickets in 1929. He did it again in 1932 and then, save when his bowling let him down in 1934, he did it every season for the rest of the decade. In 1935 he was the first all-rounder in the country to reach the mark as, despite being in his late thirties, he was for the following four seasons as well. In 1935, finally having the benefit of being able to get an lbw decision with a ball pitching outside off stump, he paid just 16.62 runs for each of his 157 wickets. His biggest haul was in 1938, when his 171 wickets cost him 19.92 runs each. Those wickets were enough to get him picked for his second Ashes Test, the third of the series. He duly arrived at Old Trafford, where constant rain meant that the players never took the field – his one consolation was that he still received his full match fee – GBP50, a tidy sum in those days.
With the bat Nichols was remarkably consistent. His most productive season in terms of runs scored was 1933 when his aggregate was 1460, but from 1932 onwards it never dipped below 1247. His best average, 35.56, came in the 1939 season and his highest innings was his sole double century, 205 against Hampshire in 1936. His record suggests that had the War not intervened there would have been further doubles to add to the eight that he achieved. As it is he lies fifth in that particular list, behind only Wilfred Rhodes, George Hirst, Vallance Jupp and Ewart Astill. By 1946 however Nichols was 45 and, no longer having the stamina he once had he turned his attention to the Birmingham League where he played as a professional for many years, and indeed he carried on playing cricket until just three years before his sudden death, by which time he was living in Newark, Nottinghamshire. The most fitting epitaph I have been able to find for Nichols comes from a writer following one of his overseas tours. I fear that both the question of which tour, and the identity of the commentator are both lost, but he wrote In a side of triers, Nichols reached even more gigantic proportions than the rest of them