A look back at the career of Craig McDermott
Marco Trevisiol |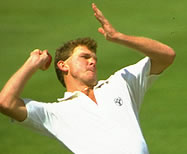 One of the highlights of the coverage of domestic cricket this Australian summer has been watching the impressive Queensland side in action, in particular their young teenage paceman Alistair McDermott. This is not only because he is a promising talent but because in bowling style and looks he is a replica of his father, long-time Australian paceman Craig McDermott.
And it leads one to think of the elder McDermott's career and reputation within the game. Statistically he deserves consideration as one of Australia's finest pace bowlers. He is currently in the top 5 wicket-takers for Australia in both Tests and one-dayers (291 and 203 respectively) and was an absolutely essential part of Australia's sides in the first half of the 1990s.
And yet despite these highly impressive stats, he has been largely forgotten as a cricket identity; his name rarely comes up for discussion when talking about Australia's finest players of recent decades. Perhaps it is partly to do with the fact that he was never a personality type to capture the public's imagination as contemporary and bowling partner Merv Hughes did. An examination of his career is required to judge how good a player he was.
McDermott made his international debut in the toughest circumstances imaginable; as a teenager against the West Indies at the peak of their powers in the Boxing Day MCG Test in 1984. Against the odds he had a fine debut and when he followed this up with an impressive 1985 Ashes tour where he was Australia's best bowler, his place as Australia's spearhead seemed assured.
But with the exception of the 1987/88 season, the rest of the 1980s were disappointing as they were marked by intermittent appearances and uneven performances. Perhaps this was not surprising as Australia was going through a difficult period and the expectation on McDermott to be Australia's bowling saviour would have been difficult to handle for such a young man. By the end of the 1980s it appeared that McDermott may fade from the scene an unfulfilled player as he failed to make the 1989 Ashes squad and played no international cricket in the 1989/90 season.
McDermott returned to the international arena for the latter stages of the 1990/91 Ashes series. He had immediate success and for the rest of his international career never looked back as he was always an automatic selection when fit.
What was the cause of his improvement? By this time he had worked on his game and was pretty much the complete bowler. While still a genuine quick, he now had the assets of being able to swing and seam the ball, making him a particularly difficult new ball bowler to face. He also had excellent variety in that he could bowl quality yorkers, bouncers and slower balls when the situation required. This was all backed up by a fitness level that enabled him to bowl long spells of high quality pace when the situation required him to.
In short, he had just about all the attributes required in a fast bowler and it was no surprise that from the West Indian tour of 1991 until Glenn McGrath took the mantle on the same tour 4 years later, he was Australia's bowling spearhead.
On multiple occasions he was Australia's best bowler on challenging overseas tours (West Indies in 1991, Sri Lanka 1992). He was the prime reason why Australia were able to easily defeat India 4-0 at home in 1991/92, taking 31 wickets at 21 and deservedly winning the Man of the Series award.
Often, his bowling achievements were unjustly overlooked. For example, in the 1994/95 Ashes series most would assume that Shane Warne was Australia's leading bowler due to his memorable feats such as getting a hat-trick at Melbourne. But in fact it was McDermott who was Australia's outstanding bowler overall, taking 31 wickets at 21 and again winning the Man of the Series award.
As fine a Test bowler as he was, he was arguably an even better one-day bowler. The highlight of his one-day career was the 1987 World Cup, where he was an integral part of Australia's surprise triumph with an excellent performance of 18 wickets at 18.94. One of the most notable features of his one-day bowling was his excellent use of the slower ball. A particularly notable example was in a one-day match against Sri Lanka in 1995/96 when out of nowhere he got wickets in consecutive balls by totally befuddling the batsmen with loopy slower balls that hit them on the full on the thigh and were plumb LBW. The look of total shock on the Sri Lankan batsmen stays in the memory.
So despite such outstanding achievements, why is he not more remembered and highly regarded?
One reason would be his record against the West Indies, who during his career were the ultimate standard of quality. While he performed very well on the 1991 Caribbean tour, he was a major disappointment when they toured Australia in 1992/93, taking 18 wickets at 34.16. In a very tight series which Australia probably should have won, McDermott's underachievement was decisive and as players are judged by how they perform against the best, this series above all else hurts his reputation. He never had a chance to redress this issue as he missed Australia's triumphant 1995 breakthrough win in the Caribbean due to injury.
Another factor which probably hurt McDermott's reputation was that when batting he was perceived to be easily intimidated against pace bowling and gave his wicket away too easily. In the ethos of Australian cricket this is one of the biggest sins, even for a bowler. A notable example was the 1991 Caribbean series he was clearly intimidated by the West Indian pace attack, meekly giving his wicket away regularly and barely scoring a run in the series. Also, in 1995/96 at a Test match in Sydney he was criticised in the media for his lack of application in protecting his wicket in comparison with the less talented Glenn McGrath when facing the bowling of Waqar Younis.
But the stigma against McDermott's commitment with the bat is not really fair as he provided on multiple occasions invaluable contributions with the bat in tough situations. Most notably with his famous but ultimately unsuccessful last-wicket partnership with Tim May in the 1992/93 Adelaide Test that almost won his side the series; against a quality West Indian attack McDermott hung around a lot longer than most of the proper batsmen.
Then there was Australia's infamous collapse against South Africa in Sydney in 1993/94 when they were able to muster only 111 when requiring 117 for victory. While countless Australian batsmen froze and let nerves get to them, it was McDermott who stood tall, counter-attacking and top-scoring with 29 not out and if others had been able to stay with him, he almost certainly would have guided Australia to victory.
His final season of Test cricket in 1995/96 saw him sharing the new ball with McGrath and it was effectively a passing on the baton of pace spearhead as McGrath was in the process of establishing himself as one of the game's greatest pace bowlers. McDermott's Test career ended at the young age of 30 as his body – which had suffered numerous injuries during his career – gave up on him completely.
Overall, while not at the level of the finest pace bowlers (his Test bowling average is too high for him to be rated at that level), McDermott was a bowler of outstanding quality who had an excellent career. Apart from McGrath, he is arguably Australia's finest pace bowler post-World Series Cricket. He was an integral part of Australia's success in the first half of the 1990s which laid the foundation for the dominance they would display in the years that followed his retirement. He was a fine contributor to Australian cricket.