A Complex Man
Martin Chandler |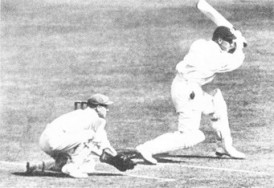 If Walter Hammond had not returned to Test cricket after the Second World War, by which time he was 43, then he would have ended his international career with a batting average of 61.45, and would remain to this day second in the all-time list. There would of course still be a yawning chasm between his mark and the 99.94 of man at the top, but he would be ahead of fellow Englishmen Kenny Barrington, Eddie Paynter and Herbert Sutcliffe, as well as the five other men who currently keep him ranked tenth.
If he had that second place, and had not embarked on the disastrous, certainly from his personal perspective, tour of Australia in 1946/47, he might therefore be remembered with rather more reverence than he is today. The fact that he was a fine bowler and fielder as well would have added weight to his claims to be the finest England cricketer of them all, but the reality is that he is seldom accorded that status, most people preferring to nominate Jack Hobbs or Len Hutton.
An alternative view is that the statistics are largely irrelevant to the question of how history regards Walter Hammond, and it is Hammond's flawed character that is the reason he is, if not quite one of the game's forgotten worthies, then a man whose 21st century reputation is not all that it might be.
Neville Cardus summed Hammond the cricketer up as a superb and majestic batsman; a slip fielder of exceptional grace , agility, sharpness of eye; and a bowler who, had he set himself to specialisation, might have equalled Alec Bedser as a dangerous exploiter of a new ball. And in fact there was rather more to Hammond the cricketer even than that. As a fielder the young Hammond was also one of the finest cover points to have prowled the infield, but his county's shortage of accomplished close catchers made sure he was not there for very long.
Hammond's bowling was versatile as well, not quite a right handed Garry Sobers, but no one trick pony either. Although he normally bowled at a pace best described as medium fast if, as he all too rarely did, he bent his back then he could be decidedly quick. Of an early experience of facing Hammond the bowler Len Hutton wrote for two or three overs I had no trouble at all. Then suddenly he unleashed a ball that took my middle stump out of the ground. I haven't a clue where the ball came from. It was too quick for me. Conversely Hammond's best figures, 9-23 followed by 6-105 for a match haul of 15-128 against Worcestershire in the County Championship, came when he was bowling off breaks and cutters.
It is however as a batsman that Hammond is best remembered, and whilst the purpose of this feature is not to describe his cricket career, or to analyse his statistics, a few records and matches are worth mentioning. After his "missing" year of 1926 he was never far from the top of the First Class averages which he headed for the first time in 1933. He was second the following season but for the six summers after that, including when he returned in 1946 after the war, he was the leading batsman in England.
Moving on to a few individual matches for the first a little context is required. A 17 year old Hammond made his debut in three Championship matches in August 1920. He achieved little but did enough to earn a contract for the 1921 season, although he did not get in the first team that summer, other than for what were for him two very disappointing displays against the Australians.
In 1922 Hammond began the season in the Gloucester side and, in the second game of the season, played at Lord's against Middlesex. He scored only 32, but in a way that appealed greatly to all who saw the innings. It was at this point that Kent got wind of what was going on and their autocratic President, Lord Harris, lodged a complaint with the MCC to the effect that Hammond, born in Dover (although he had no historical or family ties to the county otherwise), should have to see out a two year qualifying process. Gloucestershire appealed, Hammond having been educated in the county at Cirencester Grammar School, but Harris' view prevailed and Hammond, thanks to the MCC, missed the rest of the campaign and was therefore unable to begin his career until the following year.
Thus it was not until 1923 that Hammond played his first full season, and he would not have been human had he not felt some bitterness towards those who had delayed his progress. He showed considerable promise in that first summer, but after that 1924 was not a good summer for batting and by the end of August there was even some doubt as to whether he would get a contract for the following year. Then Middlesex visited Bristol. The pitch had been damaged by rain and both sides had completed their first innings by the end of the opening day. Gloucestershire had totalled just 31 (Hammond 5), in the context of which Middlesex' 74 appeared to give them a useful first innings lead.
Before Gloucestershire began their second innings their cantankerous left arm spinner Charlie Parker, who by and large despised those who ran the game, had a word with Hammond, reminding him in no uncertain terms that he had an opportunity to "remind the bastards from Lord's what you can do". His resolve thus hardened Hammond proceeded to score 174 out of 294, an innings described by Wisden as the best of the season anywhere.
Another early innings worthy of mention came the following summer, at Old Trafford. Lancashire then were as strong as they have ever been, and their great Australian fast bowler Ted McDonald ripped out two early wickets to bring Hammond to the crease at 20-2. After that neither McDonald or England men Ciss Parkin and Richard Tyldesley could do anything about Hammond who, early next morning, was the last man standing with 250 to his name out of his county's final total of 456.
The Old Trafford innings is useful to bear in mind because in the course of it Hammond, who in years to come was to eschew the hook shot almost completely, well and truly collared McDonald. Later in his career there were mutterings that Hammond was less than enamoured of real express bowling, based largely on his distaste for Jardine's leg theory, and a comment he made when on the wrong end of a dose of it from Learie Constantine in 1933, to the effect that if that was the way the game was going he wanted no more of it. In truth he was as good a player of fast bowling as any. Plenty of others found 'Bodyline' distasteful, and indeed in 1933 there was, for other reasons, considerable antipathy between Hammond and Constantine anyway, the latter having believed he had been snubbed by him when Hammond visited the Caribbean in 1925/26 with the MCC.
Finally I will move forward in time more than a decade to the last rites of Gloucestershire's 1936 campaign. Played at Bristol the match against Nottinghamshire was for Tom Goddard's benefit. Hammond was close to few of his fellow professionals, and had a very poor relationship with one or two, but Goddard was one for whom he had considerable regard. Goddard desperately needed three days of good cricket to get the crowds through the gates, but sadly for him the wicket began to break up on the first day. Notts were dismissed for 200 and Gloucestershire three down by the close. Goddard was a worried man. Hammond reassured him he would bat through the second day. As it happens he didn't quite manage that, but when he was dismissed shortly before the close he had scored 317 and guaranteed Goddard a healthy final day crowd to watch Gloucestershire run out as winners by an innings.
It is not difficult to find quotes from Hammond's contemporaries that extol the many virtues of his batting, bowling and fielding. Rather rarer are tributes to his captaincy. He knew the game inside out, and watched his opponents and observed their weaknesses. But he lacked any real tactical flair despite playing under Bev Lyon for many years at Gloucestershire, a man who was without doubt the most innovative captain of his time. Hammond also lacked any man-management skills. He was moody and introspective, and his relationships with fellow players were seldom close. He was happy to ingratiate himself with the amateur gentlemen, which of itself made his fellow professionals wary of him. Men like Len Hutton, orthodox, hard-working and talented, he got on reasonably well with, but he had little time for the more precocious of his charges, Denis Compton in particular.
To try to understand what made Hammond tick it is of course necessary to start by going back to his childhood. He was an only child, and his relationships with his parents were not close. His father was a soldier, therefore often away from home, and killed in action whilst Hammond was still at school. His mother clearly cared for her son, and took much interest in his achievements, but he was packed off to boarding school, and seldom spent much of his holidays at home, so it seems there was no great warmth there. The Hammond matriarch also seems to have been something of a snob, an accusation levelled by many, particularly his fellow professionals, at the son as well.
At school Hammond was no intellectual giant, and seems to have been very much a plodder as far as his studies were concerned. On the sports field however he was quite outstanding, and a fine all-round sportsman who earned his contract with Gloucestershire as soon as he left school. That left open the winter months and for three years Hammond spent those at Eastville, as a winger with Divison Three South outfit Bristol Rovers. Contemporary writings suggest he was a very promising player, but with his eyes looking mainly towards the cricket field, and with a reluctance to risk injury, he was never a first team regular. He also struggled in his relationships with his teammates. Without amateurs in the dressing room there was no one for the young Hammond to aspire to, and he was very much a loner at the club.
One thing that Hammond had at an early age, and in this he was virtually unique amongst his peers, was a car. To be fair to Hammond it is clear that he enjoyed motoring, and he was a very good driver albeit one who was happy to take considerable risks in the pursuit of speed, but the main reason for the car seems to have been to assist him with his other passion, the pursuit of pretty girls. Hammond was a very private man, and he never joined in the sort of ribald conversations about conquests that groups of young men often have, but there can be no doubt that the young Hammond had a very high sex drive, and that there was no shortage of attractive young women willing to assist him to satisfy it.
And it was lust that very probably had the most profound effect of all on the Hammond personality. The 1925/26 tour of the Caribbean has already been mentioned in passing. Hammond missed the last couple of matches of the tour through illness and his condition deteriorated on the voyage back, so much so that he was an extremely sick young man by the time he disembarked. He went straight to a nursing home paid for by the Gloucestershire club and a long and painful recovery eventually begun. There was talk at one stage of a leg being amputated, and it is as well that the patient's mother kept, perhaps unexpectedly in light of the detachment she had shown in the past, a more or less constant vigil by his bedside and protested vociferously when the surgery was suggested.
Hammond did not pick up a bat in anger throughout the 1926 season, although by mid July he was at least able, a gaunt and frail looking figure, to visit his teammates at the County Ground. At the time the story that was given to the press was that there was a blood disorder caused by a mosquito bite. In truth the condition that laid low the mighty Hammond was Syphilis, something that in those far off days before antibiotics could, and did on occasion, prove fatal. One of the treatments that would almost certainly have been tried on Hammond, even then controversial and now completely discredited, was the use of mercury. Long term side effects are noted as personality change, low mood, sudden outbursts of anger or impatience and exaggerated emotional responses.
Fit again for 1927 Hammond laid down his marker, all but 3,000 runs and a dozen centuries. He went to South Africa that winter and although his early Tests were unspectacular his contributions were solid and there was never any question but that he would be going to Australia in 1928/29. During the previous series Herbert Sutcliffe had scored 734 runs to create a new record for a Test series. Hammond blew it away with 905 at 113.12. The vocabulary of the game has a word to describe an average like that, but it is not, of course, Hammondesque.
When Percy Chapman's side returned from their 4-1 hammering of the old enemy Hammond was feted as being the best in the business with, at 25, the cricketing world at his feet. It hit him very hard indeed when just a year later his record was swept aside as easily as he had beaten Sutcliffe's. The spectre of Donald Bradman was to loom large over the rest of Hammond's career, and try as he might he never managed to emerge from "The Don's" shadow. Whatever Hammond did after 1930 he was never going to achieve more than being the second best batsman in the world, and when he became England captain he concentrated all his efforts on dismissing Bradman, as Australia could not possibly be beaten until he was out of the way. Doubtless that consideration also underpinned his support for Jardine in 1932/33, despite his distaste for and unease at the tactics used.
There does appear to be some evidence that after his life threatening experience in the West Indies Hammond's appetite for the pleasures of the flesh diminished for a while. In 1927 he married for the first time, to Dorothy Lister, the daughter of a wealthy industrialist from Yorkshire. The liason was a strange one. By all accounts the couple barely knew each other before the wedding, and despite her background Dorothy seems to have been neither glamorous nor "high maintenance" and, unlike her husband, she does seem to have made a real effort to make the marriage work.
Hammond himself was doubtless happy that his father-in-law paid for the matrimonial home, and also provided his beloved daughter with a generous allowance, notwithstanding her being married to England's champion batsman. That all ended when Mr Lister's business and finances were ruined by the depression and whatever his original intentions Hammond was soon back to his philandering ways, and Dorothy did not see much of him. On the 1938/39 tour of South Africa Hammond met Sybil Ness-Harvey, a beauty queen, who he spent much time with between then and his divorce from Dorothy in 1946.
With the demise of Dorothy's allowance the financial pressure on Hammond increased. He had not come from a wealthy background and despite his fame and success on the field the rewards that brought with it were meagre when looked at in the context of the amounts paid to sporting superstars today. The remuneration received by the England captain was, in financial terms, nothing at all, but it was an honour that Hammond craved as soon as it was made known to him that a change of status would mean that the job was his. In 1937, after a period as, effectively, a car salesman outside the game, an invitation was received to join the board of Marsham Tyres, and despite his increasingly difficult marriage Hammond for the only time in his life enjoyed a comfortable salary.
The war took Hammond away from Marshams to a commission in the RAF, and an undemanding role that afforded plenty of time to play cricket, and opportunities to travel to South Africa to spend time with Sybil. When peace returned little appeared to have changed. Hammond took up his old position with Marsham's again and he enjoyed a superb return to the county game in 1946. He didn't have a full season, back problems increasingly restricting him, but he still averaged 108 for Gloucestershire, and in all First Class cricket was, with 84.90 in the overall national averages, fully 16 runs ahead of Cyril Washrook, with Compton and Hutton further back still.
If the summer of 1946 had had th benefit of vintage Hammond the Ashes tour that followed was an unmitigated disaster for him, and brought a sad end to a great career. He was troubled by his back, by Bradman's continuing dominance and by domestic troubles at home. The divorce from Dorothy was making its way through the courts and an unhappy Sybil was staying with his mother in the austerity of post-war Britain, and getting increasingly homesick. Hammond largely ignored his team and picked up much criticism along the way.
There was to be no last hurrah with Gloucestershire on his return, a great case of what might have been. 1947 was the long hot summer of Compton and Edrich. Even without Hammond Gloucester were runners-up. If they had had him available with any degree of fitness they might easily have managed the two extra wins that would have brought the title to the West Country for the first time. In the event Hammond simply managed to further antagonise his old Test teammate Charlie Barnett. There had been a time when the two were friends, but Barnett did not like the way Hammond treated Dorothy, and the last straw came in that 1947 season when Hammond declined to play in Barnett's benefit match. He told a newspaper he would have loved to play, but couldn't leave London. The bitterness that Barnett felt when he discovered that Hammond was actually in Gloucestershire after all never left him.
If Barnett wished ill-luck on Hammond he certainly got his way in the years that followed. Losing interest in his job and faced with an unhappy wife and young children Hammond sold up and returned to South Africa to set up his own car dealership. The ill thought out and under prepared plan failed, and although Hammond was able to get a job in the motor trade elsewhere in Durban that company turned turtle in 1959. The middle-aged Hammond, in much reduced circumstances, became moody and morose, and prone to bouts of temper before he finally obtained further work, this time well away from the motor trade. He was rather more than a coach/groundsman, but his detractors still described him as such.
Severe head injuries sustained in a car crash in 1960 almost left Hammond for dead again, but his iron constitution pulled him through once more. He went back to work after three months and a couple of years later he returned to England, on his own, to help in a membership drive for Gloucestershire. He thought long and hard about coming back to the West Country to become a publican, and by all accounts he was in fine spirits, delighted to meet old friends again and talk cricket in a way he had never been keen on doing when at the top of his game. His first biographer, Ronald Mason, even went so far as to say he was so relaxed that he appeared younger than he had when he left the country more than a decade earlier. But the move back never got beyond the "nice idea" stage and three years later, aged just 62, the great batsman died after a heart attack. It was a sad end for all, the family being in dire financial straits, so much so that a memorial fund was begun that raised GBP3,500. Those who began the appeal would probably have been disappointed, but bearing in mind that Hammond had been out of the public eye for so long it wasn't a bad response, nearly GBP60,000 by 2014 standards.
Those who met Hammond in his final years describe a different man from the one who was the dominant batsman in English cricket through the 1930s. He seems to have mellowed, and whatever his private thoughts might have been on the subject of his being rejected by the game he was appreciative, friendly and modest when the 1964/65 England tourists to South Africa invited him into their dressing room. It must be likely that the severe head injuries he suffered in his accident in 1960 were responsible for another change to the Hammond personality.
It is clear from all that is written on the subject that at the time Hammond was at his peak there was a much greater camaraderie between First Class cricketers than there is now, the very clear distinction between Gentlemen and Players notwithstanding. Indeed that common bond seems to have lasted for many years after Hammond, only beginning to become less significant once the much greater financial rewards that the very best can now secure began to come into the game. In his playing days Hammond was one of the few who bucked the general trend, and was known to be prickly with both teammates and opponents, as well as something of a loner. David Foot's splendid book Wally Hammond – The Reasons Why sheds much light on the great man's character flaws, and I am happy to admit that re-reading that book is what inspired me to write this feature. Why did I pick it up in the first place? To make a comparison – in recent years England's batting has been led by another exceptionally gifted man with significant South African connections and, to put it mildly, the odd foible. Times change of course, but I do believe that Walter Hammond, unlike Kevin Pietersen, has at times been unfairly traduced.